Welcoming "Outsiders:"
Wednesday Bible Study Resumes on Sept. 11


Our Wednesday evening Bible study year will begin with a series exploring the boundaries of our welcome. As we at St Michael's look to expand our welcome this year, we know that we do so in a world where boundaries seem to be ever more sharply defined. What does scripture tell us about exclusion and inclusion? Join Mother Kate beginning September 11 for a 5-week series on Outsiders in Scripture. (The Faith of the Outsider by Frank Anthony Spina is an optional reference for the series.)
September screening of "When They See Us" to include
follow-up discussion and "call to action"


The Racial Justice Dialogue Committee and the Social Justice Ministry will co-sponsor the miniseries, "When They See Us," beginning on September 5th and continuing for four consecutive Thursday evenings at 7:00 pm in the Reception Hall. A fifth evening will include a viewing of a companion special, titled "Oprah Winfrey Presents When They See Us Now," in which the cast, the creator, and the exonerated five are interviewed. The 2019 American miniseries created, co-written, and directed by Ava DuVernay for Netflix, is based on events of the 1989 Central Park jogger case. The miniseries explores the lives and families of the five male suspects who were prosecuted on charges related to the rape and assault of a woman in Central Park, New York City. A speaker from the Harlem Justice Center will offer ideas for a call to action for the Episcopal Diocese of New York and St. Michael's Church.

Lunchtime Reflection Group resumes September 12


Lunchtime Spiritual Reflection Group continues, beginning Thursday, September 12 in the Angel Room. We will be using J. Philip Newell's The Book of Creation ~ An introduction to Celtic Spirituality which guides us through the seven days of Creation as recorded in Genesis and helps us to discern God's extraordinary gift of Creation through God's presence among and all around us in our everyday lives – led by Deacon Elena Barnum. Please plan to bring lunch & a copy of the book to our first gathering. For any questions, please contact Deacon Elena: elena@saintmichaelschurch.org or call 203-912-7208.
Enrollment open for Retirement & Vocational Discernment Class

Thinking about retirement, or have you recently made the leap? Consider joining a group of 10-15 parishioners who will meet for six monthly Saturday morning discussions, beginning October 19. The class will read books, pray together, and jointly discern the very spiritual and practical issues surrounding retirement (whatever the word means) and its new work/life rhythms. The syllabus is available online. For more information, contact Fr. David at drider@seamenschurch.org.
Enrollment open for COHI 14-week training program
The Community of Hope International training program (COHI)," a school for God's service," is offered at St. Michael's over 14 weeks beginning in September. The mission of the Community of Hope program is to help create and sustain Christian communities of volunteer lay pastoral caregivers united in prayer, shaped by Benedictine spirituality and equipped for and serving in pastoral care ministries. Training conducted by guest instructors includes Benedictine Spirituality, Pastoral Care, Identifying Spiritual Gifts, Coping with Loss, Understanding Family Systems and other learning experiences designed to aid lay ministers in their call to be a listening presence to others. Sessions are held on Thursday evenings from September through December from 7 to 9 pm and requires a commitment to attend the entire program. We will be using the book, A Spirituality for the 21st Century The Rule of St. Benedict by Joan Chittister. It is available online from Amazon Books. If you would like more information, please contact Deacon Richard at Rplimato@saintmichaelschurch.org. 
Join Mother Kate and Jim for Family Camp at Trinity Retreat Center


We are planning our second year of Family Camp and have spaces left for registration. Families spend six days playing, worshiping, making art and music, and experiencing God's big, holy "Yes" at Trinity Retreat Center in West Cornwall, CT. All kinds of families and all generations are welcome. August 23-28; $250/adult, $125/child, 5 and under free. For more information, talk to Mother Kate or Jim Hinch. You can email Jim at jimhinch@gmail.com.
Additional Port Newark Visit scheduled for Oct. 29

By popular demand, Fr. David has added an additional date—Tuesday, October 29—to visit SCI's Port Newark facility, including ship visits and community service at the Christmas at Sea Center.  We can take a maximum of 10 guests on ships, though additional parishioners can work in the Christmas at Sea space.  If visiting ships, you must be able to climb a 50-step gangway.  Spaces are available first-come, first served by emailing Fr David at drider@seamenschurch.org.
Rural and Migrant Ministry Asking for Donations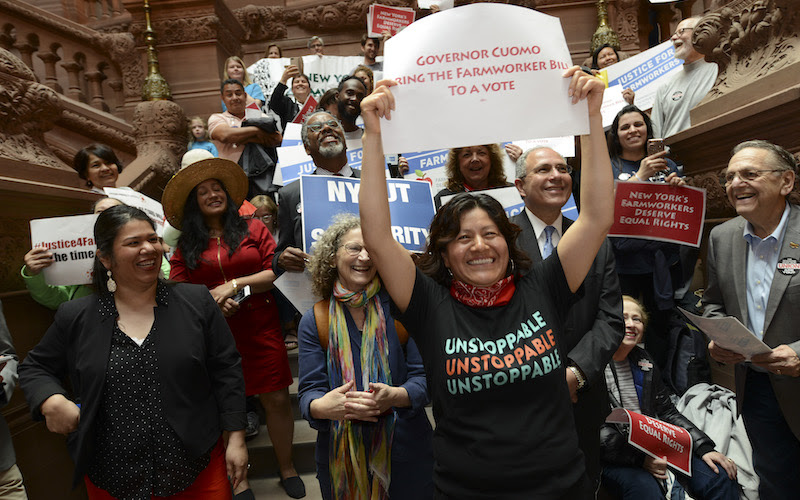 Since 1981 Rural & Migrant Ministry, a statewide, non-profit organization, has been standing proudly with the rural and migrant communities throughout New York. The organization works for the creation of a just, rural New York State through: nurturing leadership; standing with the disenfranchised, especially farmworkers and rural workers and changing unjust systems and structures.  Youth Empowerment Programs – Youth Arts Group (YAG), Youth Economic Education Group (YEG), Summer Overnight Leadership Camp, Summer Day Programs, and High School and College Internships offer creative approaches in experiential education that bring together diverse young leaders who are committed to working for change.  If you are interested in supporting this ministry, you can donate to them directly online at http://ruralmigrantministry.org/donate-rmm.
Summer Movie Night, August 21

While Bible Study goes on summer vacation, movie night will take its place on Wednesdays through August 28 at 7:00 pm in the Reception Room. At the end of each screening a discussion will follow led by a member of the St. Michael's community. The August 7 film is "Stan & Ollie" (rated PG-13) with post-screening discussion led by Richard P. Limato.
Art Afternoons for Youth August 18 & 25: Christmas Angel Banners 


The 2019 Christmas pageant will feature gigantic silk banners with larger-than-life-size angels.. Children and youth of all ages will create the angels after the style of the mosaics of Ravenna, Italy (A.D. 430-549). Participants will have the opportunity to paint on silk, sew and do bead work. Our first Art Afternoons will take place on Sundays, August 18 and 25, 2:00-4:00 pm in the Parish House and continue in the fall on Wednesday and/ or Sunday afternoons (exact timing TBD). All are welcome at any time. St. Michael's parishioner, artist and teacher, Margaret Jolly, is our guide. Contact Andrea with any questions: andrea@saintmichaelschurch.org.
Enrollment forms available for
2019-20 children and youth programs


Children's choir rehearsals resume on Wednesday, September 11. Sunday school classes and youth groups resume on September 15. Parents must register their children for these and all 2019-20 children's and youth programs: including nursery childcare and the December 15 Christmas Pageant. We hope your child will join us this year. The registration form is available here: https://forms.gle/E9am8wpQDTCFZzZx9
Drivers are needed for upcoming Fridays


If you have 20 minutes to spare on a Friday night, and have access to a car or Zipcar account, Midnight Marauders need you! St. Michael's Saturday Kitchen provides hot meals to about 200 people every week. It has been open every single Saturday since 1983. An important source of food is the Whole Foods nearby on Columbus Ave.. People with vehicles who can transport are needed at  11 pm every Friday night. From loading to drop-off, it usually only takes about 20 mins. Email Ned Boyajian to learn more or join.
Calling All Parishioners


Your help is needed with Sunday Hospitality. Thank you to all who have assisted with coffee hour after the 10:00 am service. More helping hands are needed for June, July and August! Please go to https://stmichaelsnyc.ivolunteer.com/coffeehour to view the volunteer needs, dates, and times, and select the volunteer task that works best for your schedule. Remember: You and your fellow parishioners are the hospitality team! Thank you again for making this Sunday community time possible! Questions? Please contact Dorinda Angelucci (dorinda.angelucci@gmail.com), Ben Rinzler (brinzler1@gmail.com), or Susan Wade (swadesterr@gmail.com).
MetroCards Needed


A concrete way in which we can serve the people who come to the church in need during the week is to give them a MetroCard to get to medical appointments or social services. Please donate MetroCards that contain the fare for a ride or two. Simply put them in the offering plate or mail them to the church office. Thank you!
Help Our Neighbors Get Enough to Eat


St. Michael's Midnight Marauders bring food donated by Whole Foods to the Parish House every Friday night that's served at the Saturday Kitchen. Email Ned Boyajian to learn more or join.
Saturday Kitchen Thanks
We continue to thank our loyal, caring and hard-working volunteers, and Whole Foods (Columbus at 97th), Trader Joe's, and St. Francis Food Pantries and Shelters.