Youth Sunday BBQ Thanks
What a glorious day at St. Michael's! Thank you so much to our Youth Sunday Potluck BBQ Chairs Bruce Fraser, Beryl Goldberg, CJ Everett, Anne Stribling, John Uss and to all who volunteered for the 2018 Youth Sunday BBQ. The rain held off, and the backyard was full of smiling faces, delicious food, and warm fellowship. We truly appreciate you lending your time, talent, and energy to our community. We could not have had such a special day at St. Michael's without your contributions. Thank you, thank you, thank you!
Guest Preacher Next Week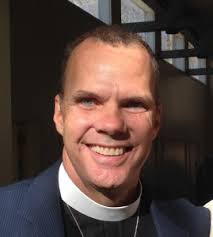 This Sunday the Rev. Sam Owen will be with us to preach at the 10:00 am service and lead a forum to update us on the New York Haiti Project. St. Michael's is helping to support the construction of a new school and church in Martel, Haiti. Sam is priest at the Haitian Congregation of the Good Samaritan in the Bronx, and a good friend to St Michael's. Please welcome him here!
CareerSearchers: Sasha, Ziggy & You—An Interactive Workshop
Interviewing, switching careers, trying to re-enter the workforce, quitting your job, asking for a raise – just reading these words will raise your blood pressure! Worst of all, these are times when you need to be the most confident, in control, and present the best version of yourself. So how do you do it? Taking some tips from famous performers like Beyoncé and David Bowie who used alter egos Sasha Fierce and Ziggy Stardust to project more confident versions of themselves on stage, we're going to do an interactive workshop together utilizing fun exercises and practical tips to get the results you want from your audience (i.e. prospective employers and bosses). Come prepared to laugh, get outside your comfort zone, have some fun, but leave feeling more confident and prepared. This workshop will be led by Beth Ann Day, the Chief Talent Officer of Bernstein Research, who has interviewed over 10,000 professionals and hired and managed over 1000. We meet Monday, June 18 at 7:00 pm in the Angel Room.
Men of St. Mike's Monthly Bible Study on June 19
Join us on Tuesday, June 19 at 6:00-7:00 PM in the library (second floor). Our study texts will be the readings for next Sunday: 1 Samuel 17: (1a, 4-11, 19-23), 32-49, Psalm 9:9-20,  Corinthians 6:1-13, Mark 4:35-41
Join us for the NYC Pride Parade

Please plan to join your fellow parishioners and other Episcopalians at the NYC Pride March 2018 on Sunday, June 24. Our Formation Block is 17th Street between 7th and 8th Avenue and our check in time is 3:00 pm. Wear comfortable shoes, stay hydrated, and if you don't need to bring a bag/backpack, please don't. The NYPD will be searching bags.
Help in St. Michael's Children's Garden this Summer!

Every Sunday after the 10:00 am service till 12:15 pm, children, youth and friends are invited to the Children's Garden in the backyard. We're growing lots of vegetables, herbs and flowers. As you take care of the garden, you'll get to see how food grows and taste things as they are ready to harvest. There will also be time to play together. Come whenever you are in town! Adults and families are needed to help water the garden during the week. Contact Andrea Dedmon for more information: andrea@saintmichaelschurch.org.
Trinity Lutheran Summer Camp

Each summer, our neighbors at Trinity Lutheran have a day camp for elementary school children in our community. The camp is offered at very low or no cost to those who cannot pay and also provides jobs for many local teenagers. Many at St. Michael's have supported the camp over the years, and if you would like to contribute this year, now is the time. Donations can be sent to Pastor Heidi Neumark, Trinity Lutheran Church, 164 W. 100th St., New York, NY 10025. If your child (or a child you know) is interested in attending the camp, please call Trinity's office at 212-222-7045 or email TLCofNYC@gmail.com.
Summer Movies Nights Begin Wednesday June 20

St. Michael's will once again show free movies in our Reception Room on Wednesday nights at 7:00 pm. The first film is Wonder, shown on June 20. The full schedule is available at the reception desk and at the back of the Church and also on our website at www.saintmichaelschurch.org/summer-movie-nights.
Movie Night Assistant Needed
We are looking for a tech-savvy individual who can be on hand during our movie nights in case there are issues with the movies we are streaming. Speak with Galina Koubassova or Richard Storm if you interested.
Word Made Young Continues All Summer!

Every Sunday at 10:00 am as the St. Michael's congregation participates in the Liturgy of the Word in the church, children ages 4-8 experience God's Word together through storytelling, play and prayer. All 4 to 8 year-olds are invited to be part of this fun, worshiping community!
Join Summer Choir!

If you'd like a chance to explore your spirituality in a new way, contact choirmaster John Cantrell about singing in the summer choir! Call him at the church (212-222-2700) or email him (jcantrell@saintmichaelschurch.org).
Hospitality Thanks

Thanks to all who make hospitality hour possible at our Sunday services: Pauline Brookfield at 7:45 am; Prairie Dawn, Joyce Charles Lee and Sally Hammel at 10:00 am; and Gillian Bonadie at Intersection.
Saturday Kitchen Thanks

We continue to thank our loyal, caring and hard-working volunteers, and Whole Foods (Columbus at 97th), Trader Joe's, and St. Francis Food Pantries and Shelters.